Il Cantico della Natura tells about himself
Farmhouse for children at the lake in Magione
Il Cantico della Natura is an eco resort and organic farm on Lake Trasimeno, nestled on the gentle hills of Umbria.
With its swimming pool and wellness center, Il Cantico della Natura offers a warm welcome, high-level services and lots of attention for families who will feel truly pampered and at ease.
Cantico della Natura: a family farm
Il Cantico della Natura is a family-friendly holiday farm offering a holiday of peace and relaxation surrounded by nature, surrounded by ancient olive groves and enjoying a panoramic view of Lake Trasimeno, and thanks to these large spaces in nature children can have fun outdoors and stay in touch with nature.
The Canticle of Nature is a charming dwelling: an old farmhouse of 1600, built entirely of stone, later renovated maintaining the characteristics of the past and furnished with nineteenth-century furniture
The Relais takes care of every detail to make every service suitable for families: starting from the rooms, the restaurant, the pool to the relaxation areas and recreational areas for children .. every corner is designed for children!
Cantico della natura for families: accommodations
The Cantico della Natura offers a wide range of family accommodation to meet everyone's needs.
There are two apartments overlooking the lake and the swimming pool: the November apartment in wrought iron and a late 19th century wardrobe in warm tones and the Autumn apartment with its characteristic stone walls.
La Cantico della Natura also has double rooms with the possibility of adding a bed, junior suites and suites all finely furnished, suitable for families of up to 5-6 people.
The 65 sqm Family Suite, born from the union of two rooms, welcomes families of 8 people and has a room for children inspired by the world of fairy tales.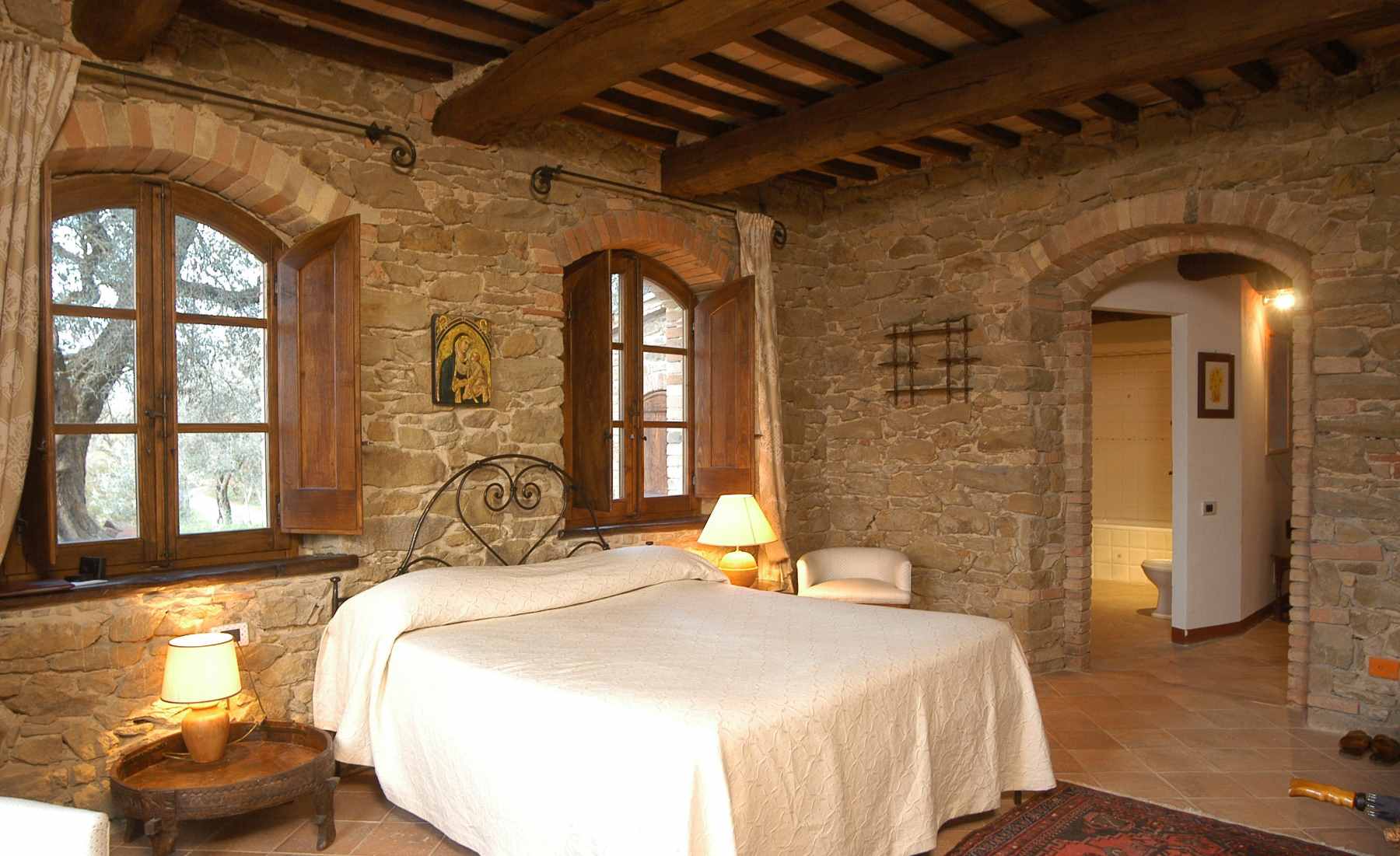 The farm offers families with children cribs and side rails for the bed, camping beds, baby bath, kettle and electric stove on request, to bring to the room to heat the milk in case of emergency.
Extreme attention to detail: fruit basket upon arrival in the room, sweet sweets for children, breakfast served in your room on request, minibar and much more. Sleeping with children has never been so magical and exciting!
Treatment and catering
The Cantico della Natura offers families a half-board in winter and full board in summer, with the possibility to choose to eat in the indoor dining room completely in stone, in the outdoor patio facing the large centuries-old olive grove and large barbecue. panoramic swimming pool with a view of Lake Trasimeno or inside the suites .. there is something for everyone!
Guests can enjoy an Italian and international buffet breakfast, with fresh, organic products as much as possible at km0, while for lunch and dinner families can enjoy the à la carte menu or daily menu, varying according to the seasons and use of local products.
The dishes are prepared with genuine ingredients and quality, also available at the company store.
Always attentive to specific needs, the restaurant offers menus dedicated to celiacs, vegetarians and mini cards for vegans.
The dining room has high chairs for children, baby cutlery and a placemat to color and offers the availability to prepare meals when necessary.
For the little ones, a sweet afternoon snack is offered at the pool or at the restaurant.
For lunch and dinner, children have a free children's menu up to 10 years, as well as the possibility to eat at flexible or early hours or to eat together with the animators.
Services and activities for children
The Canticle of Nature is a farm in Umbria for children, cuddling and "spoiling" the children with dedicated services and lots of attention.
To welcome them to the reception there are books and games and the Casetta di Aurora, a special place dedicated to children and full of games to bring even in the room and to play with.
There are several areas where children can play, surrounded by peace and quiet nature: for children up to 3 years there is a playground adjacent to the house, while for children from 3 years there is a park with the swing, maxi slide, multi-purpose gym and table tennis.
The property provides medical assistance and a trusted pediatrician on request, laundry service for children's clothing and babysitting service to be indicated at the time of booking.
Children up to 10 years stay free
Swimming pool and wellness center for family-oriented relaxation
The Canticle of Nature pampers and gives attention to its guests, offering the small and cozy spa, located in an ancient underground cellar and in continuity with the seventeenth-century style of the old farmhouse. Guests can indulge in various treatments and special massages or relax in the whirlpool.
At the spa you can also access the children who can freely use the jacuzzi with mom and dad!
The relais guarantees relaxation and tranquility to its guests, reserving the spa only one family at a time.
The Song of Nature has a degrading swimming pool suitable for children, 125 sqm wide and overlooking Lake Trasimeno.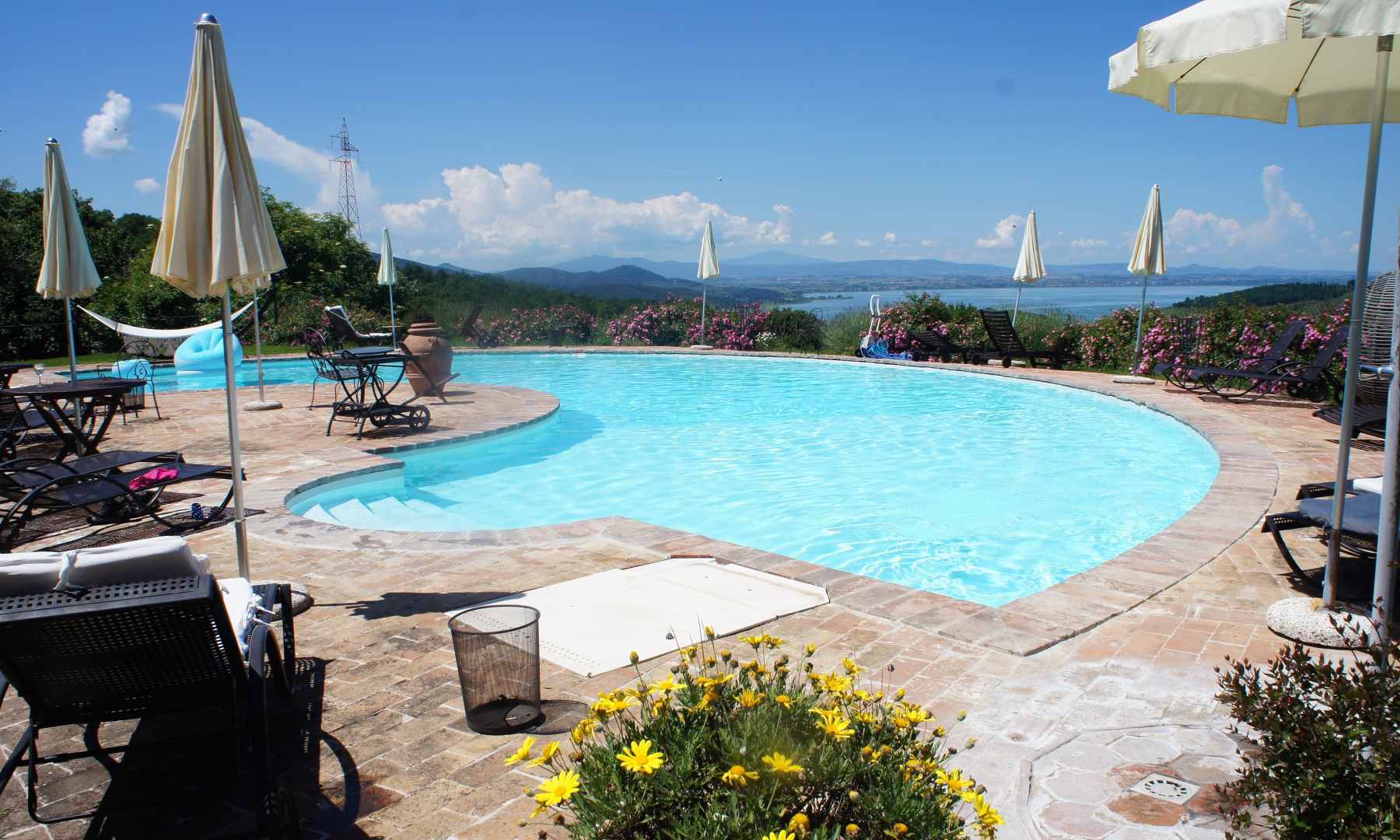 Cantico della natura is pet friendly
Il Cantico della Natura is pet friendly! The structure warmly welcomes our animal friends, who can enjoy relaxation and freedom in the nature with dedicated services: welcome kit, welcome in the room and in the common areas, large spaces in nature, dog kit on request and consists of a cot, bowl, placemat and cover.
Upon request and at an additional cost, the property provides the veterinarian in case of need and the dog sitting service.
What to do in Umbria with children
The Cantico della Natura is located in a privileged position, perfect for discovering Umbria with children through fun and exciting activities: horseback riding on the Trasimeno hills or cycling along the cycle paths, boat ride on the lake or in a hot air balloon to admire 'high green hills of Umbria .. big and children will be fascinated!
And that's not all: trekking, jogging, rafting on the Valnerina rivers, cycling or mountain biking along the Lake Trasimeno cycle path, riding beautiful horses and pony rides or becoming anglers for a day. the tastes!
Attractions in Umbria for families
Umbria offers numerous attractions for families such as the Città della Domenica, the oldest amusement park for children in Italy, which with its 45 hectares of land is home to many plant and animal species and offers numerous animations, games and entertainment. .
Moving towards Perugia, families can admire the "Casa del Cioccolato" created by Perugina on the occasion of its centenary, discovering the origins of cocoa and learning the art of chocolatiers … to lick oneself with whiskers!
And for the most daring, Activo Park in Scheggino near Perugia, the park of energy and sport completely immersed in nature and the evocative Waterfalls of the Marmore, with numerous routes for families to rediscover the taste of experiencing nature with children.